LE BANON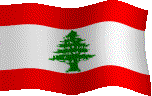 Tabaule
Ingredients:
2 Cups cracked wheat
1 lb. Washed tomatoes
2 Medium onions
Fresh parsley and mint chopped
Juice of 3 lemon
Salt and pepper
8 Tablespoon olive oil
¼ lb. Black olives
1 Tomato, quarter for garnish
Procedure:
Put the wheat into a salad bowl, cover with cold water, let stand 1 hour and drain. Cut the tomatoes in half and remove the seeds, then chop them into small cubes. Peel the onions and cut into thin slices. Put the tomatoes, onions parsley and mint into the salad bowl. Season with salt and pepper before mixing. Beat the oil with the lemon juice in a bowl and add to the wheat. Add olives, chill in the refrigerator for 3 hours. Serve the taboule garnished with tomatoes quarters.