MEXICO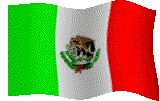 ENCHILADAS
Ingredients:
2 Cups all purpose flour
2 Eggs
2 Cups milk
Salt, pepper,paprika, and chili powder
9 Ounces cooked ham
1 Onion chopped
1 Clove garlic chopped
Few sprig of parsley, chopped
6 Tomatoes
1 Tablespoon ketchup
Cayenne pepper
Marjoram
1/4 lb. Monterey jack cheese cut into strips
Procedure:
Prepare a pancake batter with flour, 3 eggs, salt and 3/4 cup of milk. In a oil frying pan, pour a ladleful of batter and cook your pancake once cook flip over and cook the other side, then take it out of the pan. proceed the same way for other pancakes. Blend the remaining milk, egg, chili, paprika, salt and pepper. Dip your pancakes in the mixture. brown them on both sides in the pan brown the onions, garlic, ham, tomatoes and parsley. Add ketchup and season with salt, pepper, cayenne pepper and marjoram. fill each pancake with the stuffing and fold it. Cook under the broiled until cheese melt.
Veggie Pocket Tacos
1 Can (15oz) Black-eyed peas
1 Cucumber, seeded and chopped
1 Green pepper, chopped
1 Tomato, seeded and chopped
4 oz. Low-fat cheddar cheese
¼ Cup plain, non-fat yogurt
¼ tsp. Ground cumin
1/8 tsp. Ground cayenne pepper
4 Small pita pockets
¼ Head lettuce, shredded
¼ Cup salsa
Procedure:
In a large mixing bowl, combine peas, cucumber, green pepper, tomato and cheese. In a small bowl mix together yogurt, cumin and cayenne pepper. Toss with vegetable mixture. Cut pita pockets in half. Open pockets. Divide lettuce among pockets. Top with vegetable mixture. Spoon salsa over top.