JAMAICA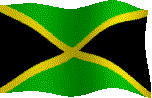 Mango Clown
Ingredients:
1 Large mango or 2 small mangoes
2 Tablespoon confectioner sugar
½ Cup heavy cream, chilled
Few drop vanilla extract
Procedure:
Peel the mangoes and cut them into small pieces and place in dish. Sprinkle with confectioner sugar. Pour chilled cream into small bowl and whip cream until stiff. Flavor with vanilla extract and mix gently. Place both whipped cream and mangoes in the refrigerator. Remove from refrigerator shortly before serving. Carefully blend together mangoes and cream.