SWITZERLAND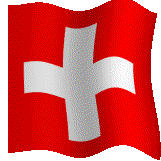 Bircher Muesli
Ingredients:
8 Ounces plain, unsweetened yogurt
¼ Cup heavy cream
2 ounces rolled oats
Seedless raisins
Juice of one lemon
4 Teaspoon superfine sugar
1 Apple
1 Banana
Hazelnut
Procedure:
Mix the roll oats with the raisins. Add a little water and let it stand for an hour. Add the lemon juice and sugar, pour in the cream and yogurt, stir well. Peel the apples and bananas. Grate the apple, slice the bananas and chop the hazelnut. Add the fruit to the " Muesli" and mix once again. Chill the mixture, even overnight. Bircher Muesli is delicious for breakfast.
Jumbo Shell With Olive And Artichoke Sauce
4 Cups jumbo shell or any sort style of pasta prepare according to package directions
Sauce
3 Tablespoon olive oil
1 Small onion, peeled and chopped
1 Can articoke hearts, drained and sliced
½ Cup stuffed olives, sliced
1 Cup peeled tomatoes
½ Cup chicken broth
½ Cup red or white wine
A pinch nutmeg
Salt and pepper
3 Tablespoon parmesan or romano cheese
Some chopped parsley
Preparation:
In a frypan heat the oil and sauté the onion and garlic until light brown in color. Add tomatoes, wine, broth and simmer for 6 - 8 minutes, stir occasionally. Add the rest of the ingredients, except the cheese and parsley. Cook for 5 - 7 minutes more. Drain the pasta. Toss with the sauce, and add the cheese and parsley. Serve at once.