SWEDEN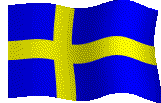 Frozen Lemon Juice
Ingredients:
1 Lemon
5 Egg yolks
1 Cup superfine sugar
½ Pint heavy cream
Procedure:
Wash the lemon thoroughly, and dry it. Put the egg yolks and sugar into a freezer-proof bowl. Beat the mixture until it is fluffy. In a separate bowl whip the cream until stiff. Carefully fold the cream into the egg yolks. Grate the lemon rind. Cut the lemon in half and squeeze the juice. Add the grated lemon rind and juice to the egg mixture, mix gently. Place the mousse in freezer 3 or 4 hours. Remove it shortly before dessert time.
Swedish Pea Soup
Ingredients:
1 Pound dried split peas (about 2 cups)
2 Cans (10 ¾ ounces each) condensed chicken broth
2 Soup can water
3 Cups ham, cut in ½ inch strips
1 ½ Cups thinly sliced onions
1 Teaspoon marjoram leaves, crushed
¼ Teaspoon ground ginger
¼ Teaspoon pepper
Spicy brown mustard
Procedure:
Sort peas, wash and drain. Combine all ingredients except spicy brown mustard in a large saucepan, bring to a boil. Reduce heat, cover and simmer 1 ½ hours, or until done, stirring occasionally. Serve with brown mustard.