NORWAY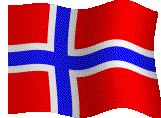 Norwegian Almond Balls
Ingredients:
1 Cup unsalted butter
1 Cup sugar
¼ Teaspoon almond extract
3 Cups sifted flour
¼ Cup ground almond
3 Eggs
1 Tablespoon water
Preparation:
In a large mixing bowl, cream together the butter, sugar, and almond extract. In another bowl, combine the sifted flour with the ground almond and mix well. In a small bowl, using a rotary beater, beat the eggs and water together for 3 - 5 minutes, or until the mixture is foamy. Add the flour mixture, cup at a time, to the butter mixture, alternating with the beaten eggs. Mix well after each addition. Knead to a smooth dough. If the dough is too sticky, add more flour, a little at a time, until it is easier to work. Pull of small pieces of dough and roll into 1-inch balls. Place the ball on a greased baking sheet, 1-inch apart. Bake for 10 -20 minutes.
Sand Kager
Ingredients:
2 Cups butter
2 Cups sugar
1 Cup finely chopped almond
4 Cups flour
Procedure:
Cream butter and sugar and work in flour and almonds with the hands until well mixed. Press into tins and bake until a delicate brown.
Polar Fish
Ingredients:
2 lbs sliced fish fillets
1 Sprig of parsley
1 1/3 Cups milk
2 ½ Tablespoons flour
½ lb. Grated cheese
Salt and pepper
8 Small potatoes
Procedure:
Grease a oven proof dish and arrange fish fillets in the dish. Chop the parsley and sprinkle it over the fillets. Season with salt and pepper. Put the flour in a bowl and little by little stir in the milk. Pour the mixture over the fish. Sprinkle your dish with grated cheese. Cook in the over at 350 for 20 minutes. In the mean time, boil the potatoes and serve them with the fish.