Indonesia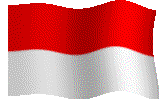 Scrambled eggs with tomato
Ingredients:
6 Tomatoes
4 Eggs
2 Small onions, diced
1 Chili pepper, chopped ( very spicy, adjust to taste)
Salt and pepper
Oil
Procedure:
Wash the tomatoes, cut them into slices. Heat the oil in a pan, cook the onions for a few minutes till translucent. Add the tomatoes and chili pepper. Simmer for 3 minutes. Break the eggs into the pan, stir well, season with salt and pepper and cook for another 3 minutes.