COLUMBIA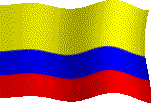 Baked Beans Cake
4 Cups Beans, cooked and puree
1lb Fried pork rinds
1 Ripe plantain, peeled,cubed and fried
2 Tablespoon butter
1 Cup bread toasted and grated salt
Preparation:
Mix the bean puree, fried pork rinds and the fried plantains. Pour into a buttered baking dish, sprinkle with the bread, dot with Pieces of butter and cook in a 300 oven for 20 minutes.
BUNUELOS
(Christmas Dessert)
Ingredients:
2 ½ oz. Butter
2/3 Cup sugar
3 Eggs, well beaten
Grated rind of one lemon
1 Cup water
Flour
Preparation:
Mix batter, sugar, and lemon rind together well. Add eggs, water, and enough flour to make a soft dough. Spread out the dough on a kneading board and cut off small pieces. Drop in a deep fat which must not be too hot. When brown, remove and drain on paper. Serve sprinkled with powdered sugar and cinnamon, or with syrup or honey.