CHINA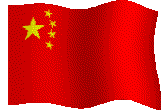 Shrimp With Rice
Ingredients:
2 1/3 Cup cooked white rice
6 oz. Shelled shrimp
4 Tablespoons oil
½ Cup shelled cooked peas
1 Beaten egg
2 Pinches salt
1 Medium onion, chopped
Procedure:
Heat 2 tablespoon of oil in pan, add rice, a pinch of salt and stir for 2 minutes. Pour beaten egg over the rice. Stir until the egg is cooked and remove from the stove. Heat the remaining oil in another pan, fry the onion for 1 minute and season with salt. Add the shrimp and peas, stir for a few minutes, add rice. Stir once again.
Chines Pot Roast
Ingredients:
3-to-4 Pound beef arm or blade pot roast.
3 Tablespoon lard or dipping
¼ Teaspoon pepper
¾ Cup of water
2 Quart shredded cabbage
flour (optional)
Preparation:
Brown meat on all sides in lard or drippings; pour off drippings. Add pepper, soy sauce and water. Cover tightly and cook slowly, about 3 hours, or until meat is tender. Add cabbage steam for 7 minutes. Thicken cooking liquid with flour for gravy if desired.