VIET NAM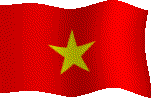 Vietnamese Salad
Ingredients:
11 Ounces cooked shrimp, peeled
7 Ounces cooked skinned chicken breast
2 Ounces bean sprouts
2 small carrots
½ Cucumber
Coriander leaves
¼ Crushed peanuts
2 Tablespoons lemon juice
Pinch of sugar
2 Tablespoon soy sauce
Salt and pepper
Procedure:
Boil the water, add bean sprouts for a few seconds only. Drain and let cool. Peel the carrots and the cucumber. Grate the carrots. Cut the cucumber into thin slices. Cut the coriander leaves. Mix the lemon juice, sugar, soy sauce, salt and pepper in a bowl (dressing). Arrange the vegetables and coriander on a dish and cover with your dressing. Dice the chicken arrange it with the shrimp on the dish. Garnish with coriander leaves and crushed peanuts.