SPAIN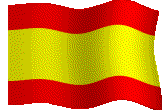 Green Salad With Salmon And Caper
Ingredients:
1 Head of romaine lettuce, washed and cut by hand in bite size pieces
1 Small tin of salmon, drain juice and debone
2 Tablespoon capers
½ Red pepper, sliced
1 ½ Cucumber, sliced
Salt and pepper
Dressing
1 Tablespoon dry mustard
2 Tablespoon wine vinegar
4 Tablespoon extra virgin olive oil
Salt and pepper
Procedure:
Combine all ingredients in a salad bowl. Toss for a minutes and serve immediately.
Peach And Almond In Wine Sauce
Ingredients:
1 Tin peach halves, drained
1 Cup sliced almonds
The peel of ½ orange
Sauce
4 Tablespoon sugar
4 oz. Red or white wine
The juice of ½ lemon
The juice of ½ orange
Preparation:
Cook the sugar until golden in color. Add the orange peel, almonds, peaches, juices and wine cook for few minutes. Serve hot or cold with vanilla ice cream.
Spinach A La Manchega
Ingredients:
18 Ounces washed spinach
6 Cups water
1 onion, chopped
4 Ounces tomatoes
2 Tablespoon vinegar
Salt and cumin powder
Olive oil
Procedure:
Bring the water to a boil in a saucepan. Add the spinach and a pinch of salt, cook for a few minutes. Scald the tomatoes for 1 minutes and peel them. Cut them into slices. Heat the oil in a big pan and fry the onions and tomato slices. Drain the cook spinach in a colander thoroughly. Add to the pan, crush the garlic in a bowl, add the cumin and the vinegar. Add the sauce to the spinach and simmer over low heat for 5 minutes. Serve hot.