POLAND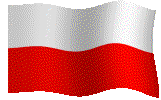 Pierogi
( Polish Cheese "pockets" )
Ingredients:
Filling:
1 Ounce cottage cheese, drained
2 Slightly beaten egg yolks
1 Tablespoon soft Butter or margarine
1 Tablespoon sugar
Dash of salt
Pockets:
2 Beaten eggs
1 Teaspoon salt
¼ Cup milk
2 Cups sifted all-purpose flour
Procedure:
Combine cottage cheese, egg yolks, butter, sugar, and salt. Set filling aside. Combine eggs, salt, and milk. Add flour to make stiff dough. Divide dough in half. On a floured surface, roll each half very thin in a 16 X 10 inch rectangle, cut rectangle in half crosswise. On one rectangle of dough drop rounded teaspoon of filling in rows, 2 inches apart. Place remaining dough a top. Press dough together firmly between mound of filling. Cut apart on press marks. Press edges of together with fork. In a heavy skillets, melt 2/3 cup butter, add 6 tablespoons dry bread crumbs. Fry pierogi till golden brown, about 5 minutes per side. Serve hot, topped with cherry preserves.