PERU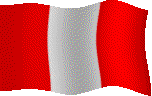 Causa
Ingredients:
Juice of 4 lemons
1 Onion finely chopped
Salt, pepper and ground chili
3 ½ lbs. Potatoes
1 Spoon of oil
Shrimp tails
10 Black olives
3-hard boiled eggs, quartered
Fresh cheese, cubed
Preparation:
Put the lemon juice and the chopped onion in a bowl to marinate, season with salt, pepper and ground chili. Boil the potatoes with their skin. When cooked, peel and mash with a fork. Add the lemon juice and onion. To keep the mixture smooth add oil gradually.
Creole Sauce
Ingredients:
1 Onion, sliced
1 Tablespoon ground chili
¼ Coriander spring, chopped
Juice of 1 lemon
Garlic, salt and pepper
Preparation:
To separate sauce, mix all the ingredients and allow to marinate for 45 minutes.
Pisco Sour
Ingredients:
4 Measures of pisco
½ Measure of sugar syrup
Juice of 2 lemons
1 Egg white
Angostura bitter
Preparation:
Put all the ingredients in a blender together with crushed ice. Mix well and serve in a small glasses sprinkle with a few drops of angostura bitter.