GUATEMALA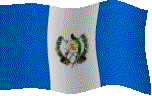 Baked Bananas
Ingredients:
4 Large bananas
½ Stick butter
2 Tablespoons honey
Lemon juice
Sour cream
Procedure:
Peel the bananas and cut them in half, lengthwise. Turn the onion on to 350 and grease a baking dish. Arrange bananas halves in the dish, dot with butter. Spread honey and lemon juice over the bananas. Bake for 15 minutes. Put the sour cream into a bowl and serve it with your baked bananas.
Beef In Tomato And Pepper Sauce
Ingredients:
¼ Cup peanut oil
1 Medium onion finely chopped
2 Garlic cloves chopped
2 Green peppers seeded and chopped
1 Fresh red pepper seeded and chopped
3 lb. Lean boneless beef chuck, cut into 1inch cubes
10 oz. Canned green tomatoes and its liquid
4 Medium tomatoes, peeled and chopped
1 Bay leaf
2 Cloves
½ Teaspoon oregano
Salt and Pepper
½ Cup beef broth
2 Stale tortillas soaked in water, squeezed and crumbled
Preparation:
In a heavy saucepan heat the oil and sauté the onion, garlic and peppers until soft. Add the meat and all the other ingredients, except the tortilla. Add more broth if necessary. Cover and simmer gently until the beef is tender, about 2 hours. Add the tortillas and cook, stirring. Until the sauce is thicken serve with rice.