GREECE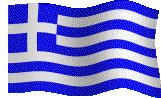 Cucumber Salad
Ingredients:
1 Large cucumber
8 Ounces Plain yogurt
Fresh mint
1 Clove garlic chopped
2 Tablespoon olive oil
Salt and pepper
1 Teaspoon lemon juice
Procedure:
Peel the cucumber, cut into bug cubes. Put into a salad bowl. Chop the garlic. Pour the yogurt into a big bowl and mix well. Add the garlic, fresh mint and lemon juice. Add oil, salt and pepper, mix well, pour the sauce over the cucumber.
Minted Bulgar Pilaf
Ingredients:
¾ Cup bulgur (cracked wheat)
1/3 Cup chopped onion
1 Large clove garlic, minced
½ Teaspoon ground cinnamon
¼ Teaspoon ground ginger
¼ Teaspoon ground cardamom seed
1/8 Teaspoon ground cloves
¼ Cup butter or margarine
1 Can condensed consommé
1 Tablespoon lemon juice
½ Cup finely chopped carrots
1/3 Cup golden raisins
½ Cup chopped fresh mint leaves
½ Cup chopped tomato
Procedure:
Brown bugur, onion, garlic, and seasoning in butter in a saucepan until tender. Add consommé, lemon juice, carrots, raisins and mint, bring to a boil. Reduce heat, cover and simmer 20 minutes, or until done, stirring occasionally. stir in tomatoes, heat to serve.
Tea Biscuit
Ingredients:
1 Cup Sugar
1 Cup butter
3 Eggs
1 Cup raisin
2 lbs. Flour
1 Teaspoon nutmeg
1 Teaspoon cinnamon
½ Teaspoon soda
2 Cups milk
Procedure:
Put the sugar and butter in a saucepan and cream for 5 minutes. Add 3 eggs and mix well. Add cup of raisins, nutmeg, cinnamon, soda, milk, and flour. Mix well and toss on lightly floured board and roll out very thin. Cut as desired. Put on greased baking sheet and bake in a moderate oven 12-15 minutes.