BRAZIL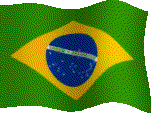 Cantaloupe With Whipping Cream

Ingredients:
1 Medium Cantaloupe, split in four
1 Orange slice for garnish
1 Pint whipping cream, whipped by hand



Procedure:
Whip the whipping cream in a stainless steel bowl until, thick. Place the cantaloupe in a serving dish, top with the whipping cream. Garnish with the sliced orange and serve. If you prefer, you can sprinkle with some liquor only if your 21 and over.
---
Fish In Spicy Tomato Sauce

Ingredients:
½ Cup chopped onions
2 Tablespoons corn oil
1 Can condensed tomato bique soup
1 Pound fillet of sole or other white fish cut into pieces
1 Tablespoon ground coriander seed
1 Tablespoon lemon juice
1 Medium clove garlic, minced
1/8 Teaspoon crushed red pepper
2 Cups hot cooked rice

Preparation:

Cook onion in oil in skillet until tender. Add remaining ingredients; cook over low heat 10 minutes, or until done, stirring gently now and then. Serve over rice.