Andorra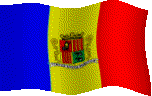 Honey Dew With Caramelia Sauce
Ingredients:
1 Medium honey dew, peeled, seeded and cut in medium cubes.


SAUCE

4 Tbsp Sugar
2 Tbs sweet butter
4 oz. White or red wine
1 Tbsp liquid honey
The juice of ½ orange
The juice of half lemon




Procedure:
In a large frypan , cook the sugar until dissolve. Add the honey dew and the rest of the ingredients. Serve hot with vanilla ice cream.